14 Oct

Daniel Dooley delivered over 50 donated coats for children in CAS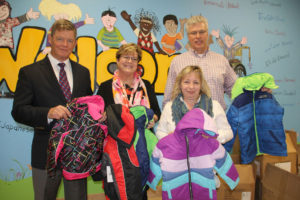 Dan Dooley, left, of the Knights of Columbus, delivered almost 50 kids' coats to Nancy Green, Lynn Burgess and Doug Cochrane at the Children's Aid Society of Simcoe County on Monday in Barrie. The Knights sell Christmas trees at both their hall on Berczy Street and the north Barrie Wal-Mart to buy the coats for both the CAS and the Women and Children's Shelter of Barrie.
On behalf of the Knights of Columbus, Barrie Council, Dan Dooley was pleased to deliver to the CAS almost 50 coats this year.  The Knights will also be presenting coats to the Women's and Children's shelter as part of their Coats for Kids initiative this year.
Thanks to everyone who helped make this another successful year!